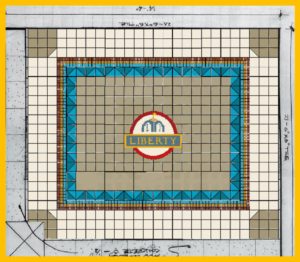 We are excited to announce a new naming opportunity at the Liberty Theatre! "The show starts at the sidewalk," is one of the first things George Kramer, noted preservation consultant, said to our restoration committee; you can help make that impact, and cement your legacy by purchasing a tile on the "Liberty Walk of Fame!"
For a contribution of $250 (outer edge) or $500 (closer to Liberty logo) you will receive a 6"x6" tile with up to four lines of text (12 characters per line). A limited number of larger, 12"x18″ and 12″x24″ tiles are available upon request; please contact us for pricing details. The "Walk of Fame" will be laid at the theatre's main entrance in front of the new double doors, and revamped box office. These tiles make great gifts for the actor or theatre lover in your family, a permanent memory of a special person, event or experience in your life.
Thank you so much for your continued support throughout our multi-phased restoration.
To "cement your legacy", please contact Jeanne by email [email protected] or phone 541-267-4006.