Christmas Opry Dancer Auditions
September 16, 2018 // 6:00-8:00 pm // at the Liberty Theatre
Please wear comfortable clothes and shoes.  Be prepared to learn and perform a small dance part.  Ages 14 & up.  Any questions, please contact Shirley at 541-207-2418
September 24, 2018 // 6:00-8:00 pm // at the Liberty Theatre
Come prepared to sing a short song you like.  Karaoke is good.  Any questions, please contact Shirley at 541-207-2418
October 6-7, 2018 //  6:00 pm // at the Liberty Theatre
Please download the Audition Packet below for more information about the Auditions.  Take note of all information in this packet as it will help answer any questions you may have. If you do have further questions please call or text Michael Pedder at 541-637-9440 or email michaelpedder@yahoo.com. Thank you and we look forward to seeing you at auditions!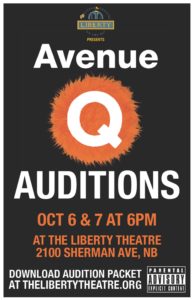 "The Little Mermaid" Auditions
January 6-7, 2019 //  at the Liberty Theatre
More Information to come….