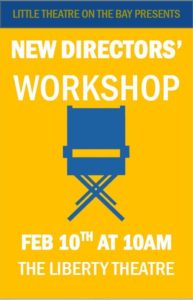 Do you want to know what it takes to be a show director at Little Theatre on the Bay? Do you have a show you would like to direct but have no idea where to start? Would you like to network with experienced LTOB Directors and get your questions answered? Then this informal and interactive workshop is for you.
We are currently accepting show proposals for our new season and we want to encourage directors with a vision to attend this workshop and learn how to make your vision a reality.
Join us Saturday, February 10th from 10:00 AM to noon at The Liberty Theatre, 2100 Sherman Avenue in North Bend.