Little Theatre on the Bay is proud to announce that it has received a grant award from The Kinsman Foundation in the amount of $15,000. The award will be utilized to restore the windows along the east facing side of the historic Liberty Theatre in an architecturally appropriate style. These seven windows have been boarded up since the late 1970s, and with the opening of the new restroom addition on the lobby level, the old restrooms have been decommissioned, allowing for an open bay view on the mezzanine level. Along with the lobby renovation, this is Phase III of the multi-phase restoration project that the Liberty Theatre is currently undergoing.
The Kinsman Foundation is a private foundation built on the philanthropy of John and Elizabeth T. Kinsman of Milwaukie, Oregon. Their areas of interest include: Historic Preservation, Native Wildlife Rehabilitation and Appreciation as well as Arts, Culture and Humanities.
Little Theatre on the Bay and the Restoration Committee are thrilled to receive this award! Since 1959, the LTOB has operated and managed North Bend's historic Liberty Theatre as a performing arts venue serving residents and visitors to Coos County. The restoration project is designed to ensure North Bend's 92 year-old Liberty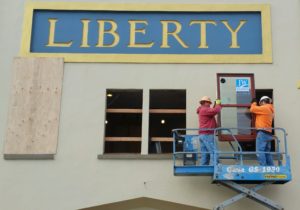 Theatre's role as the architectural and cultural hub of the community is preserved and protected in time for the centennial celebration of the building's opening scheduled for spring 2024. The Little Theatre on the Bay (LTOB) is a 501(c)(3) non‐profit organization whose mission is "to cultivate the arts in Coos County."
For a significant financial contribution, you can dedicate one of these newly restored windows and will receive a 6" x 12" brass plaque below the windowsill of your choice that will recognize you or your business, or honor the memory of a loved one for a licensing term of 10 years. The plaque will have ample room for the name(s) of your choice and may include a short bio, golden words of wisdom, or a theatre memory. Each of these historic windows has its own spectacular view of our beautiful bay. If you are interested in supporting the Liberty Theatre Restoration please contact Jeanne at 541-267-4006 or email restoration@thelibertytheatre.org for more information.